About MC Type Engines
This engine type uses a mechanically driven camshaft for fuel injection, cylinder lubrication, and to control the timing of the starting air and exhaust.
Above all the L35MC engine has won the top share in the world market and should rightly be called the world standard for small bore.
Production Types (excerpt)
※For other engines and further details, please refer to the engine catalog below.
S42MC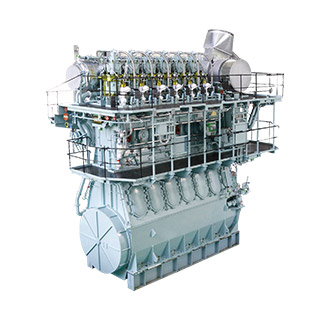 Bore

420mm

Stroke

1764mm

S/B

4.20

Engine Power

3650~8640kW

Speed

115~136 min-1
L35MC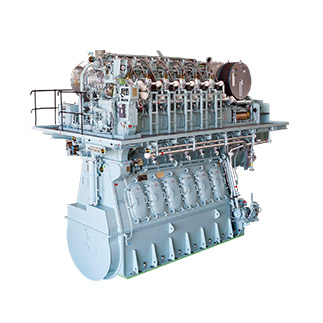 Bore

350mm

Stroke

1050mm

S/B

3.00

Engine Power

2200~5200kW

Speed

178~210 min-1

About the First of its Type "L35MC"
In 1982, Makita Corporation completed the "Makita-Mitsui-B&W 6L35MC," which was the first of its type. "First of its type" here means that based on blueprints provided by B&W, this engine's form became the first commercial product of its type in the world. In 1973, Makita Corporation entered into a technical assistance agreement with Mitsui Engineering & Shipbuilding Co., Ltd., marking a major turning point. In 1976, Makita Corporation completed the "Mitsui-B&W 9K45GF" working in cooperation with Mitsui Engineering & Shipbuilding. Based on that experience, we were able to build, through collective efforts, the "Makita-Mitsui-B&W 6L35MC."
The L35MC holds a worldwide top share among engines of its class, while the model has been changed over the years to meet the needs of the market. During a period of over 30 years, along with this long-selling engine, Makita Corporation has found fresh opportunities in moving from a focus on being a coastal shipping-centric four-stroke diesel engine manufacturer to a company with global partners that produces two-stroke diesel engines.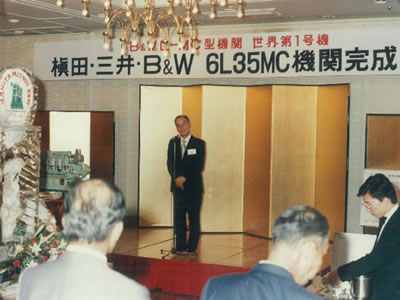 Product Catalog