About ME Type Engines
This engine electronically controls fuel injection, cylinder lubrication, and the timing on elements such as the exhaust.
In order to create an engine that corresponds to international emission regulations and achieves low fuel consumption for the protection of the global environment, the introduction of electronic control was inevitable due to the limitations of conventional machine control. The "ME Type Engine" was developed in response to the demands of this new era, and has been in production at Makita Corporation since 2013.
Production Types (excerpt)
※For other engines and further details, please refer to the engine catalog below.
S46ME-B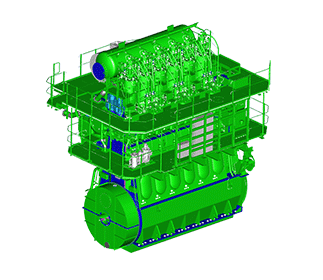 Bore

460mm

Stroke

1932mm

S/B

4.20

Engine Power

4500~11040kW

Speed

105~129 min-1
S30ME-B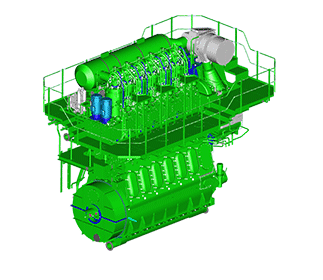 Bore

300mm

Stroke

1328mm

S/B

4.43

Engine Power

1950~5120kW

Speed

148~195 min-1

About the First of its Type "S30ME-B9"
In July of 2014, Makita Corporation, following the "L35MC" of 1982, brought a new engine into the world after 32 years: the "S30ME-B9." This was the beginning of a new path in evolution marked by the electronic control of marine engines, giving us the engine that has become the successor to the "L35MC."
Amid the growing demands related to environmental regulations and reductions in fuel consumption, in recent years a wave of technological innovation has come rushing in to bring marine engines into a new era for the industry. During this time, we have been determined to assert that "Makita continues to be a leading manufacturer in the world" with our small bore two-stroke engines, meeting the challenge with another first of its type, the "S30ME-B9."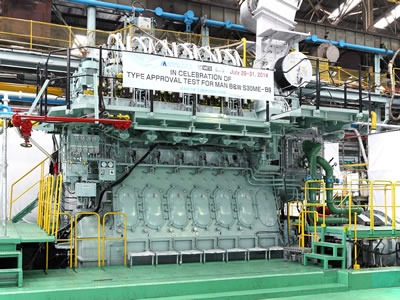 Product Catalog